"ONCE UPON A NEW YORK TIMES" DRAG STORY HOUR VIDEO TELLS THE TALE OF THE TIMES' IRRESPONSIBLE, BIASED COVERAGE OF TRANS PEOPLE
Contact: press@glaad.org
'Read Across America Day' video to play on truck outside of Times' headquarters

Coalition of 100+ organizations and leaders demanding fair, accurate, and inclusive trans coverage now includes more than 10k Times readers
(Thursday, March 2, 2023) – Today GLAAD, the world's largest lesbian, gay, bisexual, transgender, and queer (LGBTQ) media advocacy organization released a video with Drag Story Hour, which celebrates reading through the glamorous art of drag, released a 'Read Across America Day' video storytime calling out the New York Times' biased, irresponsible coverage of transgender people.
The video will be showcased on a video billboard truck all day today outside of the Times headquarters in New York City.
Photos here, and embeddable social posts at twitter.com/glaad and instagram.com/glaad.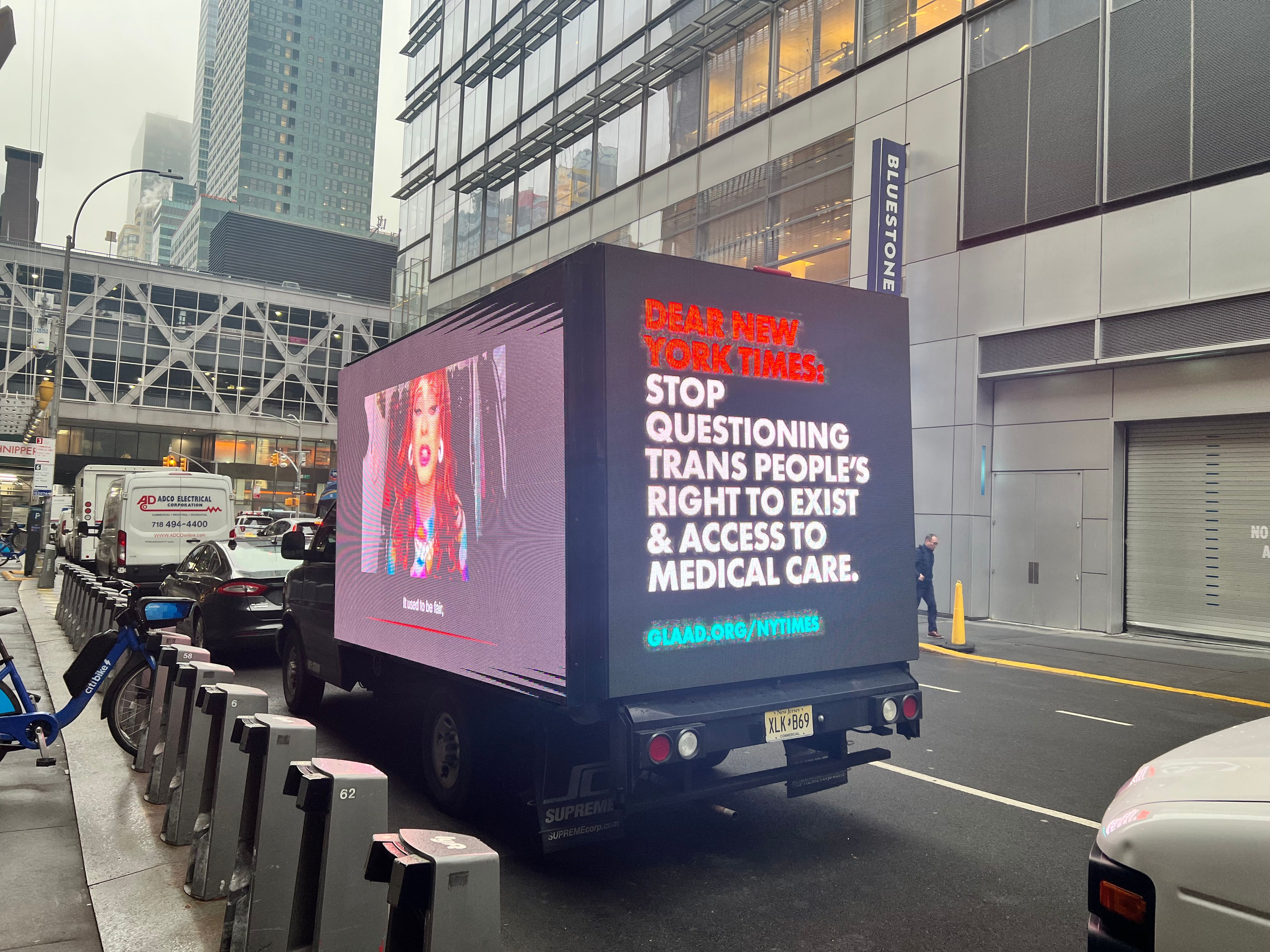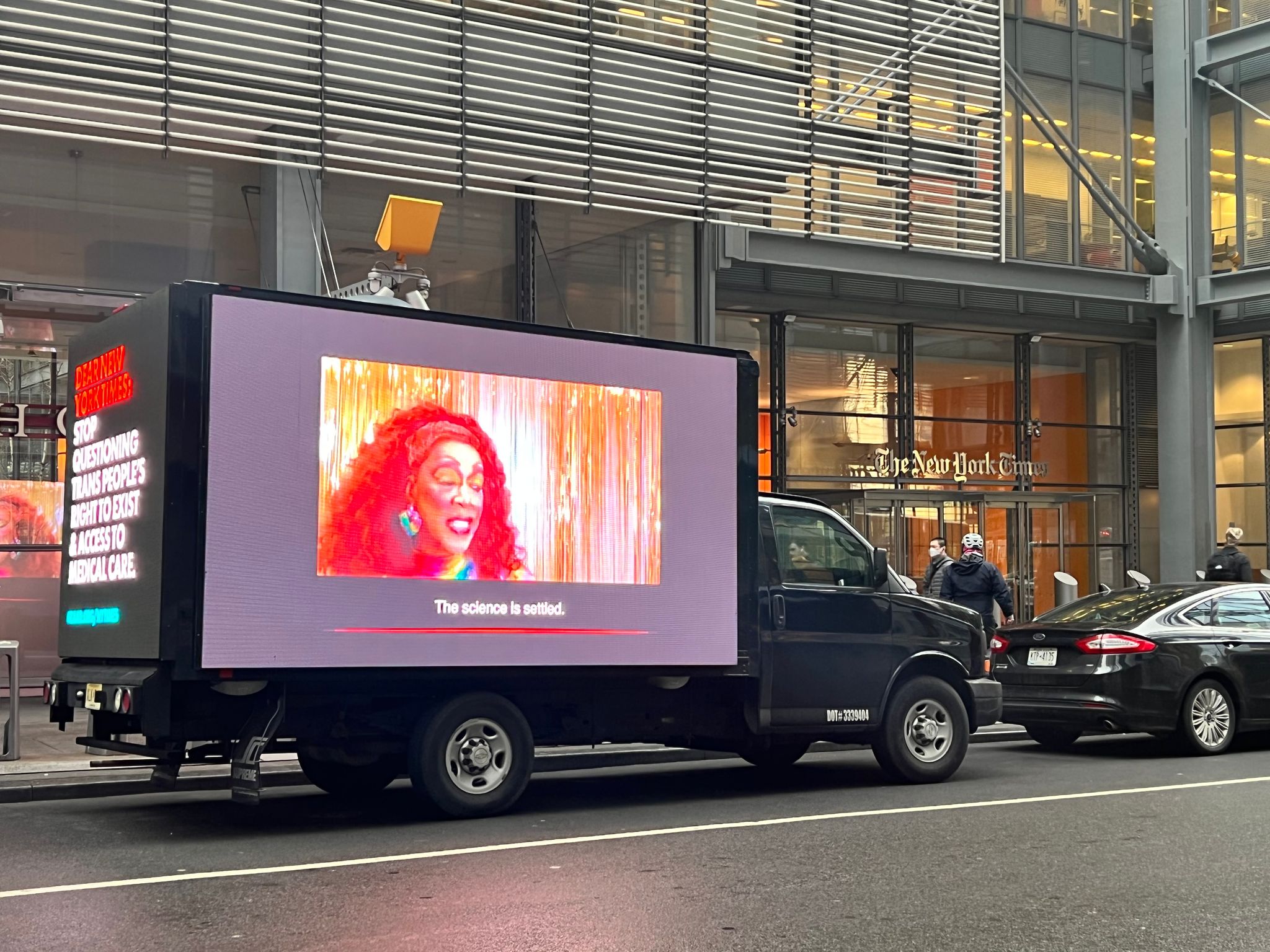 Drag Story Hour Executive Director Ona Louise and Storyteller Harmonica Sunbeam read Once Upon a New York Times, a spoof children's book telling the story of the newspaper's problematic trans coverage. The book was written by Jessica Herthel, co-author of the critically acclaimed children's book I Am Jazz.
Drag Story Hour storytellers read children's books to youth in libraries, schools, and bookstores across the country. But as Harmonica Sunbeam states at the beginning of the video: "Normally I read to children, but today I want the attention to go to a special group of adults," leadership at the New York Times.
Excerpt from Once Upon a New York Times:
Trans adults, trans kids- they just want to be;
journalists should see them just like you and me.
Trans people need healthcare, to live and to thrive;
They're not a debate or culture war side.
Trans people already have battles to fight:
dangerous ignorance being launched from the right.
So please, New York Times, don't increase the hate;
transgender health care's not up for debate.
We all make mistakes, but they must be corrected:
acknowledge the people whose lives you've affected.
(Full text of Once Upon a New York Times below.)
Statement from Ona Louise, Drag Story Hour Executive Director
"At our core, Drag Story Hour imagines a world where all kids can express their authentic selves and become bright lights of change in their communities. We know the power that stories can have, and we hope the New York Times decides to turn the page with their coverage of transgender people."
Statement from Sarah Kate Ellis, President & CEO of GLAAD
"The New York Times has shamefully refused to address direct and specific critique about the failures in their prominent coverage of transgender people, that has since been cited in legislation and policy to further discriminate against the trans community. Instead, the Times chose to ignore their responsibility and threaten colleagues who dare speak up about inaccurate coverage.
Perhaps they'll listen to this story beautifully read by Drag Story Hour artists, which showcases the Times' biased and irresponsible coverage and explains why the Times must change course. This demand for fair, accurate, and inclusive coverage is bigger than one organization or artist. Just last week our coalition of 100+ was joined by more than 10,000 New York Times readers from all 50 states who wrote letters to the editor demanding better trans stories.
Trans people exist and deserve the dignity to make private healthcare decisions without activists within the New York Times or out in the world creating phony debates that restrict their right to healthcare. The Times has yet to reflect these facts or acknowledge them. This sad story is still unfolding and the Times must reckon with its failures or face more historic embarrassment in its coverage of the LGBTQ community. Meet with trans leaders; hire more trans people; and cover the trans community with truth and respect."
Public outcry about the paper's coverage comes after more than a year of irresponsible, biased front page news and opinion pieces about transgender people. A number of these pieces have been cited by politicians to justify discriminatory bans and criminalizing efforts against best practices, consensus-based healthcare for trans youth (see below). A number of harmful opinion pieces, written by non-LGBTQ essayists, spread harmful misinformation about transgender people and do not include their voices or accurately reflect their realities.
Thousands of Times' readers have written letters of their own or added their signatures to the coalition letter signed by more than 100 organizations and leaders delivered to Times' leadership last week. The coalition letter was delivered to the Times the same day a separate letter from 1,000 Times contributors was sent, citing specific examples of bias and how they have been weaponized by anti-LGBTQ politicians to justify targeting of trans people and youth. More than 10,000 Times readers from all 50 states sent messages directly to the NY Times, a milestone that the coalition marked with an airplane banner over NYC last Friday.
The coalition of organizations and leaders has not received a direct response to their letter. The contributors have also not received a direct response to their letter. The Times' top editors sent an internal memo threatening employees for speaking up about the outlet's trans coverage.
Full text of Once Upon a New York Times:
Once upon a New York Times
(a paper of words but very few rhymes)
stood an institution most highly revered
but suddenly turning into something quite weird.
It used to be fair but now churning out bias;
"Just asking questions" it's not–it's pious.
The science is settled, the doctors agree
that health outcomes suffer when trans identity
is challenged and shamed and questioned for truth.
Trans people are valid and owe us no proof!
But for reasons unknown, the Times has committed
to platforming critics (credentials omitted).
This gives life to the skeptics and intolerant mob;
we wish they'd go back to just doing their job.
Trans adults, trans kids- they just want to be;
journalists should see them just like you and me.
Trans people need healthcare, to live and to thrive;
They're not a debate or culture war side.
Trans people already have battles to fight:
dangerous ignorance being launched from the right.
So please, New York Times, don't increase the hate;
transgender health care's not up for debate.
We all make mistakes, but they must be corrected:
acknowledge the people whose lives you've affected.
We hope that you're open to this message we're sending
and give this sad story a surprise happy ending.
Excerpt from letter signed by 100+ organizations and leaders:
"For those of us who truly treasured the Times' coverage for so many years, it is appalling to see how the news and opinion pages are now full of misguided, inaccurate, and disingenuous 'both sides' fearmongering and bad faith 'just asking questions' coverage. We won't stand for the Times platforming lies, bias, fringe theories, and dangerous inaccuracies. We demand fair coverage, we demand that the Times platform trans voices as both sources and full-time writers and editors, and we demand a meeting between Times leadership and the transgender community." Read the full letter and list of signers here.
The public can also continue to sign the letter and send a copy of it to the New York Times at glaad.org/nytimes
Demands from the 100+ organizations and notables signed onto coalition letter:
Stop printing biased anti-trans stories, immediately.
Listen to trans people: hold a meeting with trans community leaders within two months.
Hire at least four trans writers and editors within three months.
Direct negative impacts of irresponsible Times coverage for trans people and their families and medical providers includes:
Coverage of the trans community recently published by the New York Times that received loud negative responses from leaders in the LGBTQ and medical communities includes:
A year's worth of stories from the Times Science Desk have undermined support for transgender youth by purporting dangerous opinions from non-experts as objective facts, neglecting both medical science and the overwhelming consensus support for trans healthcare among major medical associations, while equating medical expertise to anti-LGBTQ lawmaker opinion.
Sources in the biased pieces have since spoken out about being misrepresented and their regret in engaging with the Times.
A biased piece about schools outing trans students neglected to report how the anti-trans legal strategy is pushed by anti-LGBTQ hate groups who falsely and harmfully call trans people an "existential threat to society."
Popula has tracked that "The Times has now published more than 15,000 words' worth of front-page stories asking whether care and support for young trans people might be going too far or too fast." This biased "science" coverage includes:
In May 2022, the Times published a piece by Michael Powell that baselessly asserted that trans women who participate in sports are somehow taking opportunities away from cisgender (non-trans) women. Powell falsely asserts being trans is a "choice," ignores evidence that states with inclusive policies have more girls participating in sports than states with bans, and ignores that opposition to inclusion in sports is a coordinated attack by an anti-LGBTQ organization designated a hate group by the Southern Poverty Law Center. The Times hired a former attorney for that hate group as a full-time Opinion writer in January 2023 (see below for more).
In October 2022, Times Opinion editors gave Pamela Paul, who is not LGBTQ, space for her unfounded thoughts about how LGBTQ people should describe themselves – space the Times could and should have provided to anyone with lived experience in the LGBTQ community to write about LGBTQ issues from a firsthand, authentic and accurate perspective.
Times editors choose to platform Paul's bias regularly, including an inflammatory piece published the day after contributors and advocates publicly sounded the alarm about harmful coverage. Paul baselessly claimed to know whether author JK Rowling's words and actions are harmful to trans people without quoting a single trans person about them. Paul continues to pit transgender women against cisgender (non-transgender) women and exert ludicrous claims that her opinion on marginalized people is more worthy of amplification than the voices of marginalized people themselves. Note that Paul was hired weeks after the Times neglected to renew trans writer Jenny Boylan's contract as an Opinion Page writer. Before moving to Opinion to become its chief LGBTQ opinion correspondent who is not LGBTQ, Paul led the NYT Books section. Paul's essays repeat inaccurate anti-trans talking points including those by anti-trans writers hired to review anti-trans books --- in the NYT Books section Paul used to lead.
In January 2023, the Times published and promoted a biased front-page story that spotlighted unfounded claims about trans youth by anti-trans activists. This story left out critical information about the challenges trans youth face when considering coming out or being unfairly outed, including parental rejection, dangerous violence, and homelessness. It also failed to note how the legal strategy of the parents in this piece is fully supported and funded by known anti-LGBTQ hate groups.
Also in January 2023, the Times boasted about hiring David French, a former attorney for the Alliance Defending Freedom, an organization that the Southern Poverty Law Center designated an anti-LGBTQ hate group that actively spreads misinformation about LGBTQ people and pushes baseless legislation and lawsuits to legalize discrimination.
Facts about trans youth:
Additional response to the Times' irresponsible, biased coverage includes:
Full list of signers to the coalition letter at www.glaad.org/nytimes
###
About Drag Story Hour: Drag Story Hour celebrates reading through the glamorous art of drag. Our chapter network creates diverse, accessible, and culturally inclusive family programming where kids can express their authentic selves and become bright lights of change in their communities. https://www.dragstoryhour.org/